Boundary Walk 2020
This was the first event that the Silchester Association has been able to run since lockdown in March and we were very happy to be able to go ahead with it even though we had to adapt the organisation of it to comply with the current restrictions on gatherings.
Twenty one walkers and four dogs took part along with Pete Hughs, our camera-man, who walked the first section in order to get some pictures and Steve and Irene Spillane in the back up vehicle.
The walk is run in conjunction with St Mary's and traditionally Rob Young would have given us a blessing before the start but sadly he was unable to be there due to illness.
After a safety briefing from Simon Brewin we set off in staggered groups of 5 or 6
The weather was perfect for walking - a bit cooler than it has been but a glorious sunny day and in spite of all the rain we had last week, the paths were quite passable, if a bit muddy in places!
Thank you very much Claire Macklin for allowing us to use your toilet before our much needed lunch break where we all enjoyed a glass of wine before setting off down Odd Lane and back through the Roman site to the village
Boundary Walk 2019
Twenty three walkers and nine dogs set off from the village hall after a blessing from Rob Young and the group photo taken by Pete Hughes who joined us on the walk this year with his camera.
It was good to see a few new faces this year as well as the regular walkers, including three young walkers who had no trouble in keeping up – well done Ethan and Emily Payne and Archie Cartwright for completing the circuit and thank you Emily for keeping us up to date with how far we had walked.
We were all very happy to see some sunshine after the storms earlier in the weekend and though we had to negotiate a few wet stretches of paths, the conditions were fine.
Many thanks to Steve and Irene Spillane for driving our backup vehicle and transporting our bags and the wine to the lunch stop at Brickledons Farm where Claire Macklin very kindly hosted us all for lunch.
We were joined part of the way round by a young black Labrador (tagged "Dave") who seemed very keen to be part of our expedition. Fortunately, thanks to Spotted Silchester we finally tracked down his owners and he was returned home safely!
Looking forward to seeing the photos Pete!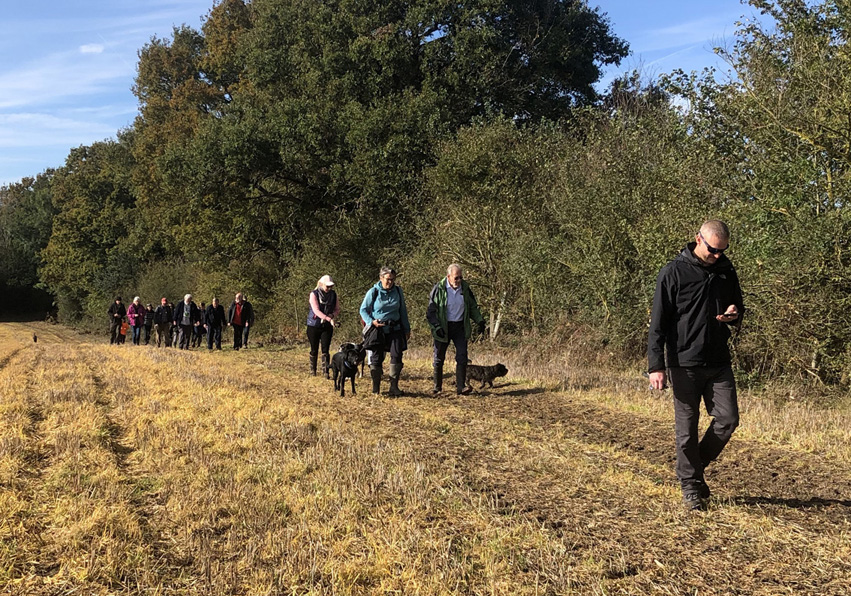 Boundary Walk 2018
Waking up to torrential rain on the morning of the Boundary Walk was not the best start to the day. But, after a few hurried email and telephone exchanges, showing true Silchester community spirit, it was decided to go ahead with the walk.
We had a small turnout of 7 people and 1 dog. Rob Young blessed us all and we headed off just after 11.30am. Across the Common and through the Roman site, even across a railway line, making sure no train was coming of course!
A massive thanks goes out to Howard Wilkinson for leading the walk and regaling us with some really interesting snippets of local history along the way. Thanks to Brian and Debbie at Haskers Farm for allowing wet dog, wet boots and damp walkers into their kitchen to eat lunch and enjoy a glass of wine. Despite the weather, everyone was in great spirits and a lovely time was had by all.
We do really have some beautiful footpaths around Silchester.
Thanks to Steve Spillane for doing a great job of being our wine carrying back up vehicle.
Same time next year! Thank you Clare for taking on this event and showing such fortitude in completing it!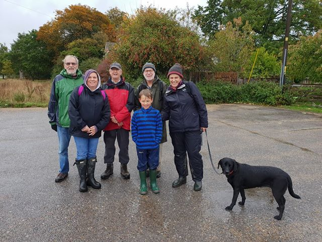 Boundary Walk 2017
We had a great turnout this year for the annual Boundary Walk with 32 people and 8 dogs starting from the Village Hall carpark for just under an 8 mile walk around the parish boundary. This walk takes us along some well-trodden paths across the Common and through the Roman site but also on some less well known paths through wooded areas and fields and across the railway line.
Rob Young said a short prayer at the start and we left soon after 11.30am. Howard Wilkinson once again led the walk and regaled us with snippets of local history on the way.
Once again we were blessed with lovely weather and the autumn colours through the forests were beautiful. It is not often that you can have lunch outside in comfort in October but we all enjoyed our lunch stop-over at Brian & Debbie's at Haskers Farm for a welcome rest and the traditional glass of wine.
As always, the walk gives you a chance to catch up with old friends and make some new ones along the way. Thanks to everyone for joining us and to Steve Spillane for driving the back up vehicle.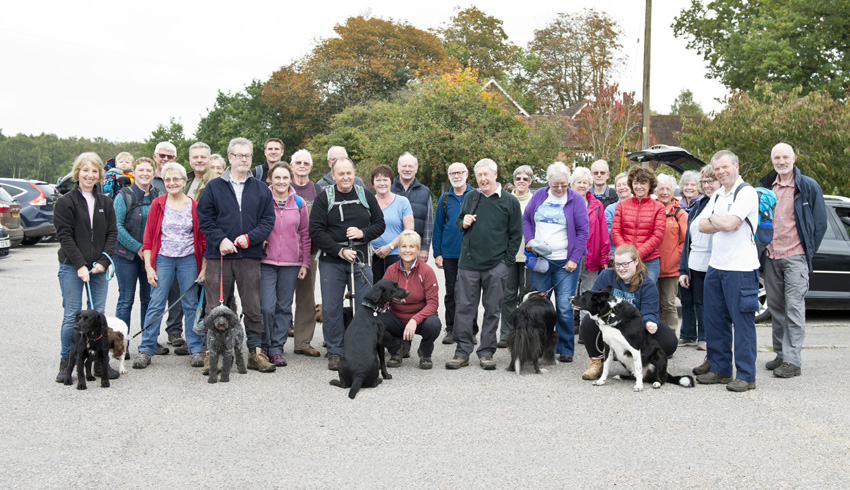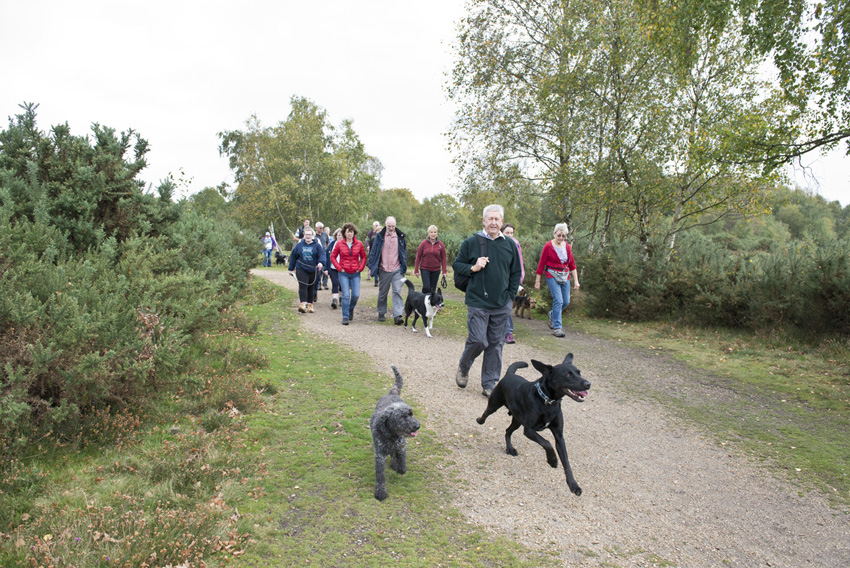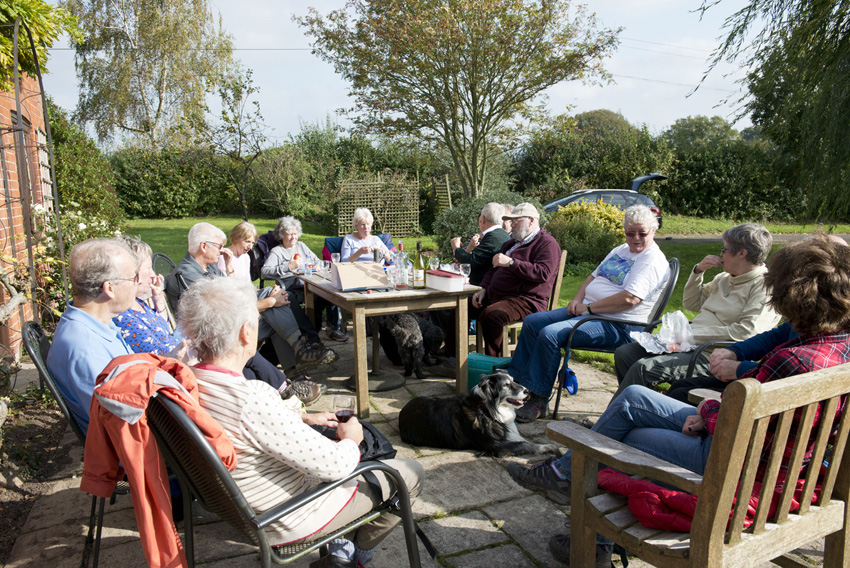 Boundary Walk 2016
25 villagers and 12 dogs gathered at the Silchester village hall carpark for this year's Boundary Walk – a gentle stroll around the boundaries of our lovely village. Once again – we were blessed with a lovely sunny day and, after Pete Hughes had rounded us all up for the obligatory group photo, Colin Hunt from St Mary the Virgin offered a short prayer and thanksgiving before we set off along the path towards the common.
Howard Wilkinson led the walk again and was there to answer any questions and share some snippets of information about the village and its history along the way.
I love this walk. It is a great opportunity to catch up with old friends and make some new ones along the way. We were very happy to see some new faces and also to welcome back those who turn up every year.
We stopped for lunch at Hasker's Farm and would like to thank Brian and Debbie Watson for their hospitality. We enjoyed an hour sitting in the sunshine and quaffing a glass of wine before setting off on the last stretch over the railway, up to the church and back through the Roman site to the village hall.