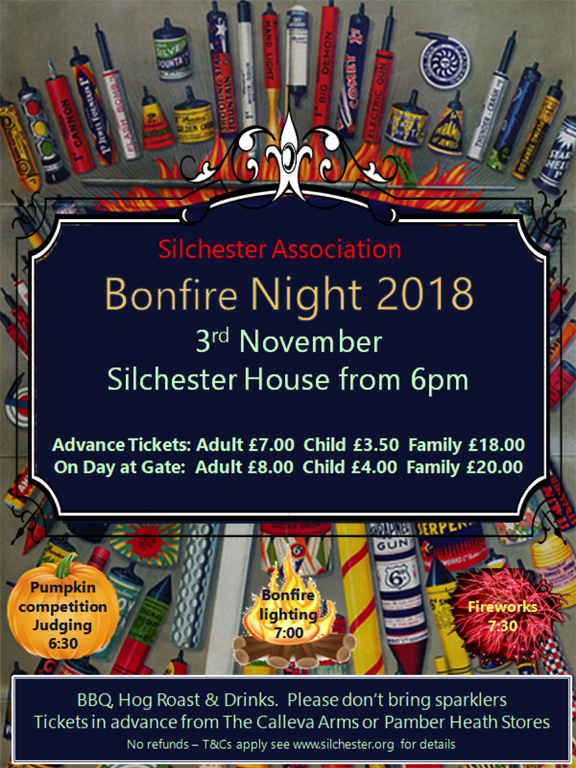 Silchester Bonfire Night - 3rd November 2018
The fireworks are ordered and preparations are in hand for Bonfire Night.
Wood Collection
This will take place on Sunday 21st October 2018 from 11:00 am. We are looking for volunteers and support please:


1. If you have a vehicle (preferably 4x4) fitted with a tow bar and can help on the 21st October we are desperate to hear from you;
2. If you have a large trailer we can borrow to use for wood collection;
3. If you are available on 21st October to help load and unload wood we need you.
If you can help with any of the above, please contact Chris Lee by 14thOctober.
Wood Needed

We need old boards, floor boards, hardboard, plywood, old doors, construction timber 2x1, 2x4 and greenery in branches for this year's bonfire. Not wanted thank you: old sheds, fences, rotten wood or hedge cuttings.
To arrange for collection of wood from your house on 21stOctober please contact Chris Lee by 14th October.
Bonfire Building
As always, we need people to help build the bonfire on the morning of Saturday 3rd November from 11:00 am. Time is short this year, so the more people who can help the better. If you are available - please let Chris know so we have an idea of numbers.
Contact details for Chris Lee: e-mail This email address is being protected from spambots. You need JavaScript enabled to view it. or phone 0118 970 0702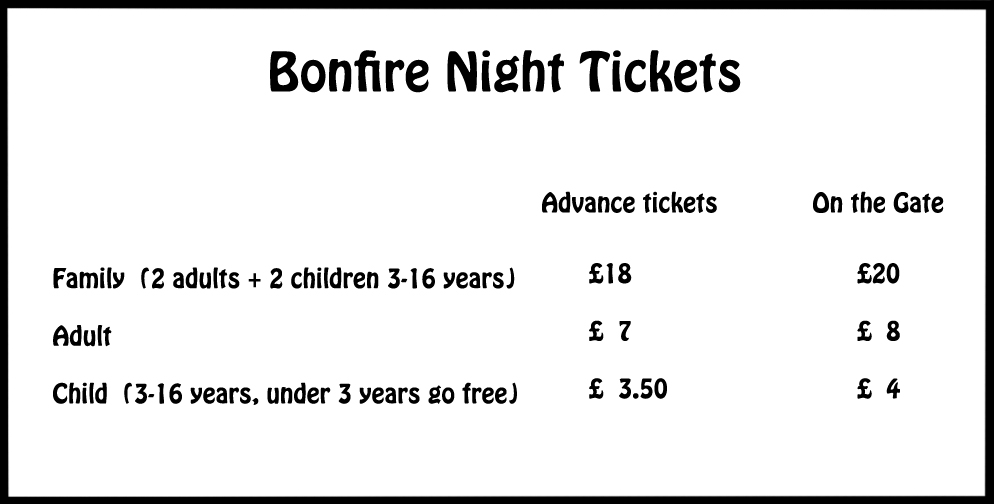 Tickets will be on sale in October from the Calleva Arms and Pamber Stores
Event Cancellation Policy for Pre-Event Ticket Sales Following the difficulties the Reading Half Marathon organisers faced this year when snow forced them to cancel their event; the SA Committee took legal advice about what it should do about event cancellation. The Committee members were advised to publish clear T&Cs for tickets sold pre-event if a SA event was cancelled. When the SA organises mass people events like the Beer Festival and Bonfire Night and pre-event tickets are sold indirectly as cash purchases, the Committee members concluded that providing refunds for these tickets would be extremely difficult to do. So, in future any ticket bought in advance for the Beer Festival or Bonfire Night is non refundable under any circumstances, even if the organisers have to cancel the event. This information will appear again on our website, Facebook page, and on event advertising in the Parish Magazine. Tickets will state no refunds. To compensate ticket holders we will offer free entry to the same event in the following year providing the ticket holder keeps the ticket undamaged and there are no signs of tampering/fraudulent activity. It is worth mentioning that the Silchester Association has never cancelled a Beer Festival or Bonfire Night, so the risks of this happening are small. But now we all know where we stand.